Overview
Get ready for going clouding with us!
Allocate your business exactly the resources that you need, that you can resize and use as you wish, on a monthly subscription basis.
We are industry leader in providing data protection services with high availability and security for missioncritical applications of our customers. We are strongly committed and focused on the consolidation, virtualization, automation and IT infrastructure management for our clients.
Buy a Cloud Server service accessible remotely anywhere, anytime, fitted with dedicated storage, uncompromised security, a preinstalled operating system, internet connectivity and specialized technical support.
For people that think fast, act fast. Virtual Private Servers services tailored to meet the needs of performance and scalability. No upfront payment| Pay as you go I Easily Built I Provision in minutes
Our Solution:
Guaranteed resources (CPU/RAM)
Guaranteed storage capacity, provided on an SAN equipment
Microsoft Hyper-V Platform
Hardware protection
Virtualized level protection
Automatic Balancing of the virtual machines workload
Asynchronous replication for disaster recovery location
Best data communication services
Management and monitoring operations
Consultancy& engineering support
Our cloud infrastructure is hosted in a Tier 3 next-generation data center, equipped with brand name servers and equipment and the VMware virtualization platform. The service offered includes a dedicated storage, a preinstalled operating system, internet connectivity and specialized technical support.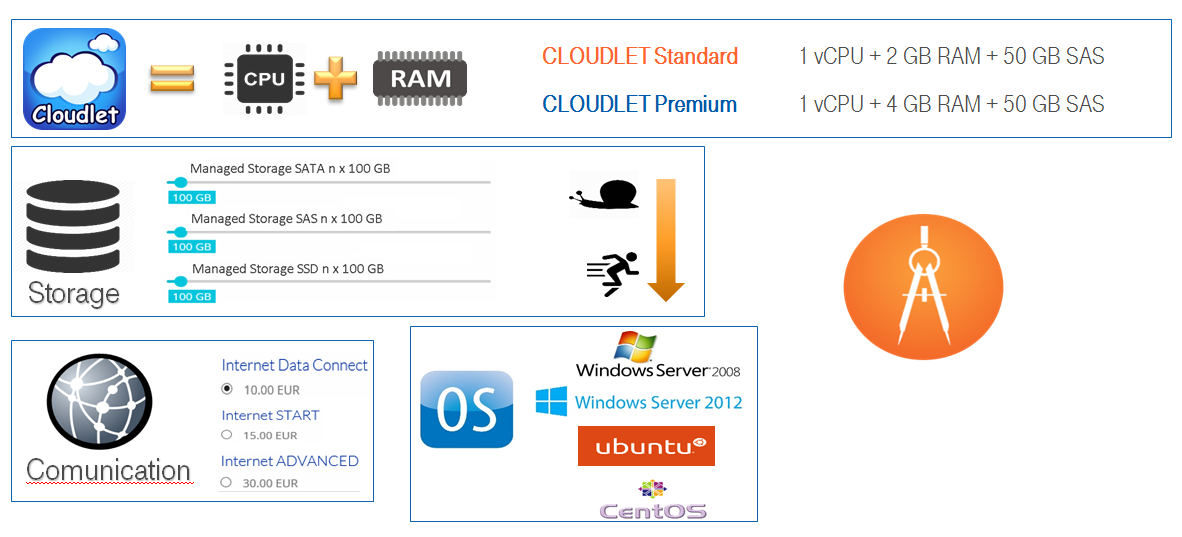 Computing, storage, network and security services from a public cloud;
Available at short notice, scalable to your needs;
Easily integrated into existing IT infrastructures;
At least 99.9 percent availability;
Secure and flexible;
Pay-as-you-go services;
Complete package available, complemented with strongest firewall technologies, highly reliable data;
Connectivity solutions, monitoring and unparalleled technical support 24*7*365.
Effective cost control: low costs; no license fee; monthly budget forecast; secure company cash-flow;
Fast and automate resources configuration;
High service availability: High reliability of equipment, virtualization platform (VMware vSphere) and next-generation cloud (VMware vCloud Director) ;
High security provided through Layer 2 redundancy mechanisms offered  by Cisco® Nexus 1000V.